Description
Description
How to turn management into your main competitive advantage 
The six key principles for improving your management process and delivering better performance.
A book that any business leader and manager seeking improvement and growth will find important to read.
Written by a leading management thinker and adviser who has spent 30 years developing and applying these methods.
Practical and accessible – the information is presented in an engaging and visual form.
Book Details
Publisher: LID Publishing
ISBN: 978-1-911687-26-9
Bookbinding: Paperback
Format: 234 x 156mm
AUTHOR
LUKAS MICHEL is the owner of Management Insights, based in Switzerland, and CEO of the AGILITYINSIGHTS.NET, a global network of experienced business mentors. Over the course of his 40-year career, he has worked with executive teams around the world, focusing on management and agility for a diverse range of local, national, and global organizations. Lukas is the author of The Performance Triangle, Management Design, People-Centric Management and Diagnostic Mentoring.
REVIEWS
This book is for those who practice management, not for those who talk about it. So many management books are full of what managers should do. They tell you why, sometimes what, but seldom how. That is fundamentally what managers want to know – how to implement changes and, crucially, in their context. Lukas Michel's latest book builds on his others and gives managers a framework for their context and the 'how' to implement the ideas. It's as much workbook as textbook, with plenty of thoughtful exercises. Even though well-researched, both in theory and in practice, it's an easy read. It should give managers renewed optimism that they can make their organizations able to thrive in a VUCA world."
Nick Hixson, CEO, Hixson business enablers, Bournemouth, UK 
Twenty years ago, Lukas found his purpose in optimizing people-centric management by establishing Management Insights AG. Liv- ing his beliefs, he still aims to push management to new levels and, after five expert books dealing with his well thought out and complex concept, his sixth book Better Management enables a newcomer to get familiar with the ideas behind it. Knowing Lukas for more than a decade, I am still impressed by his passion, ideas, and beliefs to develop and push the art of better management."
Michael Eckert, Director Project Management, Electronics, Merck KGaA, Darmstadt, Germany
OTHER BOOKS BY THE AUTHOR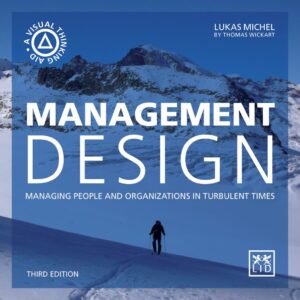 In Management Design, the author presents management as a system or a model through a combination of graphics, diagrams and text. Management models are immensely valuable and will enable managers to more easily think, make decisions, behave and act in line with the company's overall strategy and objectives. Moreover, when management models are articulated and shared, it can save time, focus attention and release productive energy. This book essentially helps managers to gain a better perspective of their businesses and key activities. It becomes a valuable tool for managing companies and people in these ever-changing and turbulent times.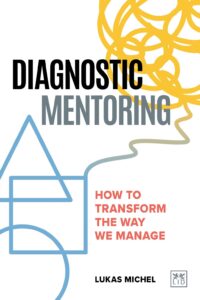 It's every manager's prime job to manage better: to change the way they lead people and how they organise work in the new (post-pandemic) business context. Diagnostic Mentoring discusses the role of the operating system to do that and clarifies managerial priorities and goals. This then sets the stage for Diagnostic Mentoring – the methodology that enables the transformation of the way we manage. 
If you have not yet experienced the benefits of agile but don't want to miss the trend, then Agile by Choice offers a gentle introduction into the core concept and the prerequisite of people-centric management. This book offers a new way to think about how you lead people, how you use your own resources, and how you personally perform at your peak.In line with his previous books, Lukas Michel presents a diagnostic self-mentoring approach with 21 exercises for leaders to learn about agile and people centric. This book initiates the shift to strategic agility with your team to establish leadership everywhere.
Today's dynamic business environment requires new ways to man- age, lead, work, and organize. Traditional paradigms of efficiency, agency theory, transactions and scale are replaced or augmented with principles that focus on people, self-organization, and purpose for greater innovation and growth.
To expand on his previous books, Lukas Michel presents new research, practical applications and the experience with People- Centric Management, agile organization and work on the system to establish new management where people unlock their talent, master greater challenges and perform at their peak.
The book offers the legendary People-Centric Diagnostic that forces the reader to decode and rethink the many assumptions underlying their management model and systems. In combination, the people-centric model, the three-step process and action agenda will help executives establish leadership everywhere to succeed in a dynamic environment.
It is a new era. To win in an increasingly dynamic and volatile environment, leadership teams must be agile – they must be flexible enough to react to early signs and act on them quickly.
An agile company needs good decision-making at all levels – from the centre to the periphery, tapping into the full potential of the people, operating model, information technology and leadership practices. And decisions are made by people. This guide forces you to re-examine the assumptions underlying your leadership and how agility within your company can be built through a three-point, people-centric approach. The author's insights will help you understand your options, make the choices required to successfully coach your team, and start creating agility as a competitive advantage today.
More Info