Description
Description
A must-read book about banking and financial services that analyses the future and opportunities
Covid-19 will have a major impact on financial services and banking – this will be the first book to publish exploring this
Written by two leading thinkers and advisers from world-class consultancy firm Arthur D. Little
Includes original interviews and insights from executives and major players from the world of banking
Book Details
Publisher: LID Publishing
ISBN: 978-1-911671-48-0
Bookbinding: Hardcover
Format: 234 x 156 mm
AUTHOR
Ignacio Garcia Alves is the global CEO of Arthur D. Little. He focuses on linking startegy, innovation and transformation for technology-intensive and converging industries. With 30 years of experience, Ignacio brings out the best of his creative thinking and strategic problem-solving skills in advising CEOs from around the world.
Philippe De Backer is Managing Partner and Global Practice Leader of Financial Services at Arthur D. Little. Philippe draws from his extensive experience as a global leader in financial services to share a proactive view on the disruption in banking and emerging business models, which are reshaping the sector and many industries as traditional business boundaries are blurring.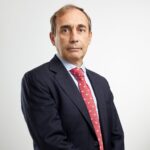 Juan Gonzalez is a Partner at Arthur D. Little. He has worked extensively on the impact of technological change on the information flows that shape organizations and their interactions with their environment. 
REVIEWS
The book provides a provocative view on the technology-driven reshaping of the financial sector. It helps the reader understand how disruptive models are reshaping global economies and consider strategies for effective response.
Ricky Knox, Founder of Tandem Bank
The banking industry has always seen itself protected from
the disruption touching all economic sectors. It's no longer the case. Arthur D Little tells us why, and more importantly how leaders should prepare for this new world of banking.
Paul de Leusse, Deputy CEO of Orange and CEO of Orange Bank
More Info