Description
Description
How to develop the crucial skills of networking to succeed in your career 
Based on the advice and experience of a legal professional who is known for her outstanding networking.
Follows a step-by-step system on how to develop the skills needed to be a great networker.
Virtually everyone has to learn to be an effective networker if they want to truly rise in their job and career.
Focuses on personal and authentic qualities that results in a higher level of professional relationships and networks.
Book Details
Publisher: LID Publishing
ISBN: 978-1-911671-95-4 
Bookbinding: Paperback
Format: 216 x 138 mm
AUTHOR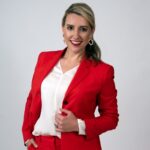 Alisa Grafton is a partner at De Pinna Notaries, a leading legal notaries firm, and assists law firms, investment banks and multinationals to execute cross-border transactions. She is also active in female leadership and is a mentor for the Athena40 Forum. She is based in London. 
REVIEWS
The book on 21st-century thinking behind professional relationships.
Dr Ivan Misner, Founder of BNI and NY Times bestselling author
Great Networking is more than just a 'practical tips' guide to networking events. Alisa Grafton takes a thoughtful approach to networking and building professional rela- tionships that provides the platform to give the tips she shares better context and makes them easier to apply. An excellent read.
Andy Lopata, International speaker, podcast host and author of five books on networking and professional relationships
Alisa Grafton offers even the most reluctant networkers a contemporary guide into both the 'why' and 'how' of networking today.
Maya Gudka, Executive Coach and author, London Business School
Alisa cleverly reveals in this brilliant guide that the secret to successful networking is to enjoy it. What better way to learn how to do this than by hearing from those who have taken that journey themselves? The invaluable knowledge in these pages gleaned from so many experts is itself a masterclass in networking by Alisa.
Richard Macklin,Former Global Client Partner, Dentons and Director, FulfilledLeaders.com
More Info